The King Agency recently completed an amazing recruitment campaign for The Virginia Department of Conservation and Recreation to help promote seasonal employment opportunities for their more than 50 Virginia State Parks. Take a look at our strategic approach to the design and messaging of this multi-channel campaign:
The Virginia Department of Conservation and Recreation (DCR) offered us a unique challenge: to design a campaign promoting hiring efforts for their seasonal jobs. The campaign would take a variety of digital and print forms. The goal was to target those who love nature and inspire them to work in nature as well. Virginia State Parks are awe-inspiring places, from the beautiful hiking trails of the Blue Ridge Mountains to the serene beaches on the coast. Working in nature makes it a better job. Naturally.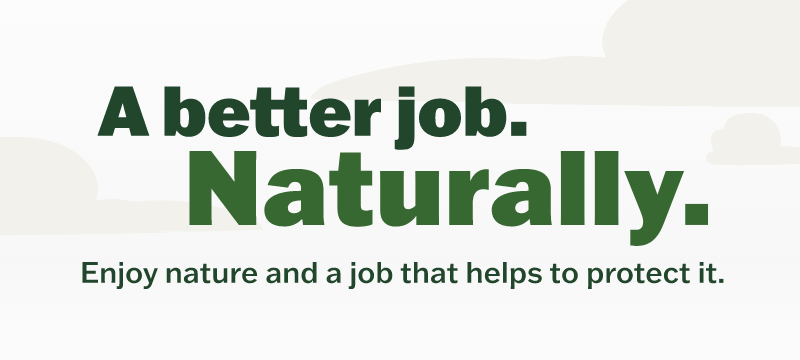 Once the slogan direction was decided upon, it was time to do some visual problem-solving. While past designs had used images of workers and the parks, we knew that images were limiting. Although pictures say a thousand words, they still are limited in encompassing the variety of stories we wanted to tell with the page space we had to work with. Going in an illustrated direction allowed for more flexibility. We could draft and edit an image that encompassed wildlife, greenery, and the varying landscapes of the Virginia Parks while still keeping the feel of wonder and beauty.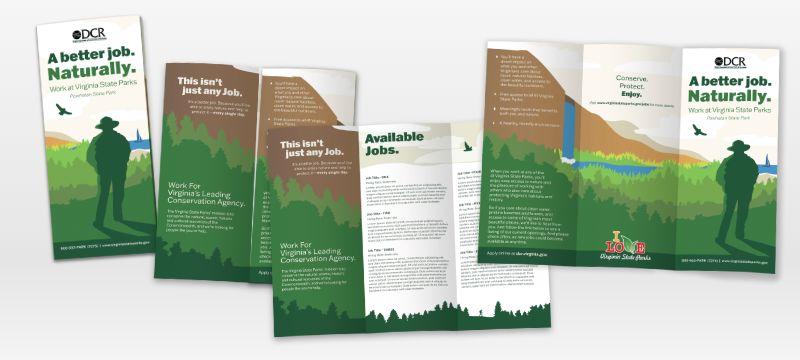 When one thinks of nature, they typically think of greenery, and Virginia has a wide variety of greens to display year-round all over the state. The main illustration component of the campaign uses the full range of colors introduced in their branding guide. By assigning the accent colors to different background features, the full colors of a Virginia landscape are displayed — like the waterfalls, rivers, lakes, oceans, forests, and mountain ranges. The goal was to create an illustration that encompassed the depth and variety of Virginia's natural landscape. 
Digital material encompassed the full range of colors and depth. In-house print material was kept simple and relied on paper and type to get the story across. All of the designs were also customizable to fit the individual needs of the parks. If you find yourself visiting one of the beautiful Virginia State Parks, keep your eyes peeled for one of our designs in the wild!